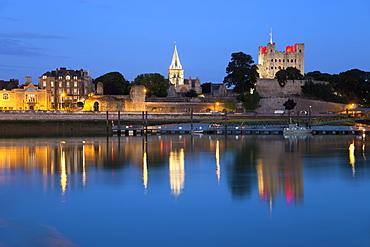 Selecting a suitable commercial cleaner can be a challenge. How do you know that the cleaners aren't going do a good job the first time to make a good impression and then let standards slip? Or the dreaded dusting around items instead of moving them and cleaning the entire area fully. Will they correctly maintain supplies of soap, toilet roll and sanitiser?
Who are we?
Kent Cleaning Solutions offer commercial and domestic cleaning and even window cleaning to our regular customers. Our commercial services are available throughout Medway and across Kent. We are a local company with an extensive knowledge of our local area and take pride in supporting businesses in the area with keeping their buildings clean.
We provide a range of high-quality cleaning solutions throughout Kent and Medway to different organisations from private companies, offices and shops to schools and charities.
We offer high quality contract cleaning for all of our customers with flexible contract terms available depending on your needs. Our staff are selected by us for their attention to detail, friendliness and commitment to hard work. All staff including management and cleaners take part in "hands on cleaning" and are given sufficient training in best practice techniques. We also carry out our own independent inspections to ensure we are delivering a high-quality service to our customers. Our training enhances the relationships between our cleaners and maintains team spirit within our workforce.
What are the benefits of a clean and tidy environment?
A clean and well-maintained environment can result in a more productive workforce. Being able to easily access what is needed for staff to complete their jobs in a tidy space can lower stress and improve general focus.
A hygienic environment is important to both employers and employees. Frequently touched surfaces need to be cleaned on a regular basis to help prevent the spread of community diseases that are often spread within offices which can cost a company thousands of pounds in lost productivity.
How your workplace looks to a visitor will affect the opinion they have of your business. If you have a dusty, poorly cared for environment this can tarnish the overall identity of your business. A company is judged for the care and presentation put into all areas of the workplace. Ensuring a professional standard of cleaning in your premises indicates that the business is thorough and well organised.
Having a regular cleaning regime in place also means floors and office furniture are maintained in turn, meaning that they serve you for longer, this will help with reducing your office maintenance costs over time.
Our Vision
Being a cleaning company in Medway we want to build and maintain our reputation by providing excellent customer service in an industry that is not renowned for customer service. We like to ensure that we meet all customer needs and exceed expectations. Our philosophy is to ensure that we never lose a customer.
At Kent Cleaning Solutions, we believe it is essential to invest time in choosing a cleaning company that will provide you with an excellent service. Please call us today for a free quotation and to find out how we can offer you a service that is second to none.