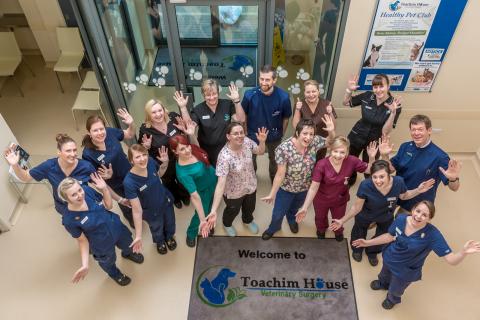 We are very pleased to announce that we have now been entrusted to clean Toachim House veterinary practice in Faversham, Kent. Toachim House' mission is to provide a caring, quality, professional premier service to their clients and their much-loved companions. All of the staff are pet owners, so they fully understand how you feel.
The practice was originally founded in 1999, and taken over by Andrew Wills (a vet working in Kent since 1985) in 2002 when there was just Andrew and 2 nurses – Stacey Van Gent and Samantha Ellis. Now, thanks to the support of their lovely clientele, they have grown to the point where they have 4 full-time and 2 part-time vets, 12 qualified veterinary nurses, a student, an Animal care assistant, 4 dedicated Receptionists and two cleaners. Stacey and Sam are still there – Stacey is their practice manager.
In January 2010 they moved to a brand new, purpose-built site in the new Eurocentre Business Park off the Whitstable Road in Faversham. This has allowed them to expand their services but continue the premier service that has always been so important to them all. Carrying on with this ethos, Kent Cleaning Solutions are happy to be a part of the team and help continue to provide a clean environment for both their staff and clientele alike.