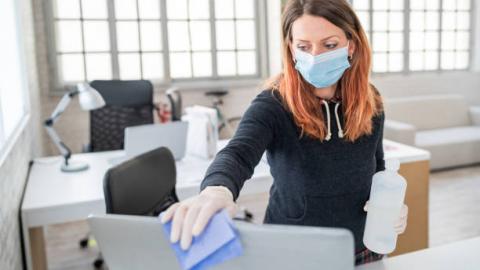 Hiring an office cleaning company is a great way to keep your space clean and sanitary, and improve the working environment for employees, often resulting in greater productivity.
But where do you start when it comes to choosing a cleaning company for your office? Competitive pricing is of course important, but you want to ensure you choose a company who are reliable and professional, as well as being able to deliver fantastic value for money.
Here are some top tips on what to look for when choosing a cleaning company:
Positive customer reviews - This is a great way to gauge how your experience as a customer will be.

Read testimonials, or ask the company to provide references.

If there are existing customers who are willing to share positive thoughts, it's a good sign for the experience you may have with them as well.
Quality of staff - This can vary greatly from company to company.

Make sure you choose a company where the staff are trained in best practice cleaning techniques and importance is placed on detail, friendliness and commitment to hard work.
Great customer service - No one wants to hire a company only to find that they are hard to get hold of and don't return your calls.

Communications and excellent customer service go a long way to making everything run very smoothly.
Flexibility - You need your office cleaning company to work around your schedule, and fit in around the needs and wants of your business.

Ensure the company you choose will put your needs first and offer as much flexibility as possible.
Services provided - Understand the different services that each company can provide.

The last thing you need is to hire a company, only to find out a few months later they don't offer everything you need and you have to hire someone else.
Value for money - Budget considerations are always near the top of the list for any business hiring a service.

However, it is also important to ensure you are getting value for money.

Don't just pick the cheapest company:

take time to understand what is included in each quotation as this can vary wildly.
At Kent Cleaning Solutions, we think it's essential to invest some time in choosing a cleaning company that will provide you with an excellent service. Please call us today for a free quotation and to find out how we can offer you a service that is second to none.