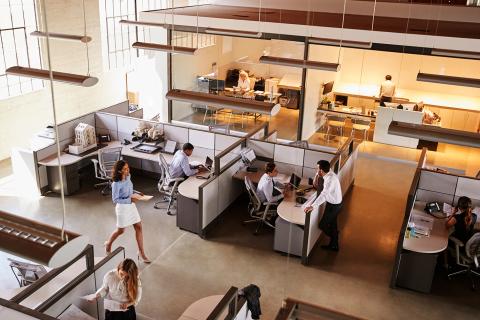 From small owner managed offices to large corporate workplaces the standard of cleaning required remains the same regardless of the size of the office space.
The image of the workplace is of great importance to both employees and customers alike.
The cleanliness of your office leaves a lasting impression with customers and visitors, the first impressions really are created at the front door. A clean and clear environment gives the impression of an organised, professional company.
Staff also need a clean and tidy environment to encourage them to bring the best of themselves to work. From clear and dust free desk space to clean toilets, kitchen areas and fully stocked soap and sanitiser dispensers, staff that feel well looked after will be more productive.
No employee would be able to work to their best standard with an overflowing bin in the background!
Business owners have more important work to think about which is why professional cleaners are often employed to take care of the cleaning allowing business owners to take care of their business.
Office cleaners are employed to undertake all the tasks to maintain a clean and tidy workspace. This often includes undertaking vacuuming, dusting and polishing adhering to the business cleaning specification with periodic deep cleans scheduled. Keeping the office space thoroughly clean and ensuring a vibrant and productive place to work.
Office cleaning services also need to provide their services at convenient times of the day to ensure the least disruption to the business and people working in the office.
Kent cleaning solutions work with our customers to fully understand the needs of their business and cleaning requirements to adhere with health and safety guidelines. From a big commercial office to a smaller office space, we fully understand the importance a clean workplace and will work with you to ensure your exact specifications are met by our office cleaning team.
Kent cleaning solutions offer Office cleaning services across all of Kent. Our office cleaning services are bespoke to each individual business' requirements. We aim to build long lasting relationships with our customers and work with you to understand the needs of you and your business including scheduling our services at the most convenient time for you. We believe providing a consistent and professional cleaning service in Kent is key to upholding our excellent reputation.
Call us today to arrange your free quote.